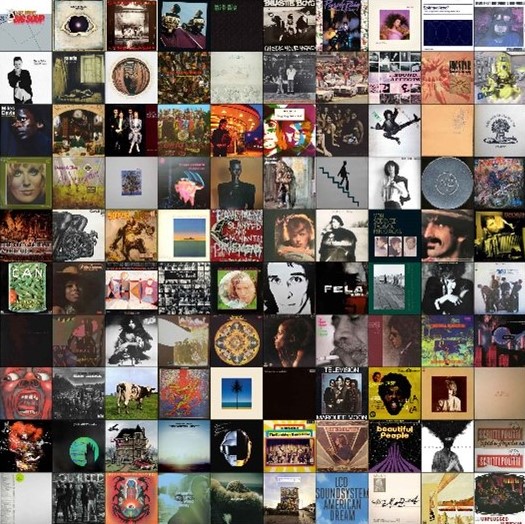 The first rule of Record Club is of course that we don't talk about Record Club but after thirteen years of meetings we have reached our One Hundredth Album!
So to mark this milestone, and without a safety net, we are attempting playing a track from each of our featured albums. This is the second half of the show and features music from our chosen albums through the years.
Hope you enjoy and roll on the next one hundred choices!
Playlist for Part Two
Getting Better - The Beatles - Sgt Pepper's Lonely Hearts Club Band
Holy Thursday - David Axelrod - Songs Of Innocence
produk 29 [101] - Aphex Twin - Syro
Cold Earth - Boards of Canada - Tommorow's Harvest
Cloudbusting - Kate Bush - Hounds Of Hell
Hold Up - Beyoncé - Lemonade
K. 626: Lacrimosa - Wolfgang Amadeus Mozart - Requiem
Figure It Out - Royal Blood - Royal Blood
The Waltz - Dexys Midnight Runners - Don't Stand Me Down
He's Misstra Know-It-All - Stevie Wonder - Innervisions
Giorgio by Moroder - Daft Punk - Random Access Memories
Can You Hear Me - David Bowie - Yound Americans
Nadir's Big Chance - Peter Hammill - Nadir's Big Chance
Man In The Corner Shop - The Jam - Sound Affects
Formed a Band - Art Brut - Bang Bang Rock N Roll
Palermo Hollywood - Benjamin Biolay - Palermo Hollywood
Summer '68 - Pink Floyd - Atom Heart Mother
Little Red Riding Hood Hit The Road - Robert Wyatt - Rock Bottom
Comin to Get You - The Beautiful People - If 60s Were 90s
Solid Air - John Martyn - Solid Air
Slim Slow Slider - Van Morrison - Astral Weeks
Song to Comus - Comus - First Utterance
Diana - Alexander 'Skip' Spence - Oar
Trams of Old London - Robyn Hitchcock - I Often Dream Of Trains
Love Spreads - The Stone Roses - The Second Coming
I Believe in You - Talk Talk - Spirit Of Eden
Water No Get Enemy - Fela Kuti - Best Of The Black President
Doreen - Frank Zappa - You Are What You Is
Make Me Feel Again - Edwyn Collins - Gorgeous George
Locomotive Breath - Jethro Tull - Aqualung
Traction in the Rain - David Crosby - If Only I Could Remember My Name
Just Like the Rain - Richard Hawley - Coles Corner
In the Beginning - Genesis - From Genesis To Revelation
Boogie Stop Shuffle - Charles Mingus - Ah Um!
Gypsy Eyes - The Jimi Hendrix Experience - Electric LadyLand
Telephone Call From Istanbul - Tom Waits - Frank's Wild Years
Gloria: In Excelsis Deo - Patti Smith - Horses
I'll Take Care Of You - Gil Scott-Heron - I'm New Here
Swan Lake - Public Image Ltd - Metal Box
Croaking Lizard - Lee Scratch Perry The Upsetters - Superape
Dirty Boulevard - Lou Reed - New York
Cossacks Are - Scott Walker - The Drift
Wasting Time - Kids These Days - Traphouse Rock
A Candle's Fire - Beirut - The Rip Tide
Rayna Rani Jaaki - Maestro Ilaiyaraaya & The Electronic Pop Sounds of Kollywood 1977-1983- Solla Solla
Broadcasting live from The Railway Hotel Southend On Sea