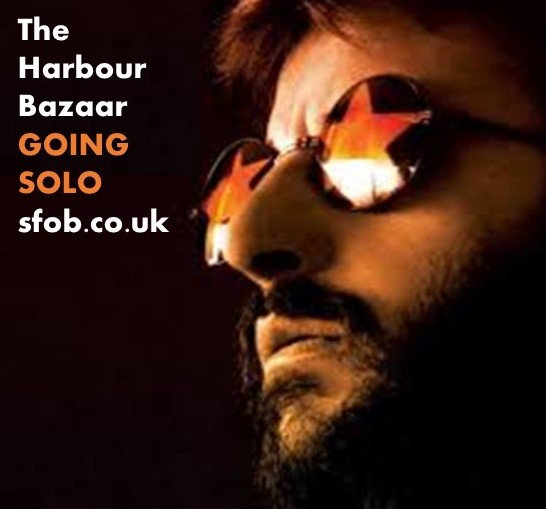 A breezy Bazaar as we focus on solo projects and moves from already known band artists! Taking requests so a few unusual sounds from the show!
Playlist
Back Off Boogaloo - Ringo Starr
Keep On Pushin' - Gene Clarke
I Am The Cosmos - Chris Bell 
Octopus - Syd Barrett
Cold Night For Alligators - Roky Eriicson
Pick Me Up (Big Chicken)- John Entwistle
Kings Lead Hat - Brian Eno
Games Without Frontiers - Peter Gabriel
I Sometimes Dream Of Glue - Luke Haines
The Fairest Of The Seasons - Nico
Vicious - Lou Reed
3/5 Of A Mile In 10 Seconds - Jefferson Airplane
The Proud One - Frankie Valli
Panique - Juniore
Triumph (Of The Good City) - Jean Jaques Burnel
Beelzebub - Bill Bruford
And So to F - Brand X
The Jezebel Spirit - David Byrne
Bachelorette - Björk
Crosseyed Heart - Keith Richard
Help Me Please - Sonic Boom
Man In Man - Dave Ball ft. Genesis P Orridge
Till Dawn - T-Rex
Dance With The Devil - Cozy Powell
Follow The Harbour Bazaar on Twitter @harbourbazaar1 and www.facebook.com/theharbourbazaar
Ship Full Of Bombs broadcasting live from The Railway Hotel www.railwayhotelsouthend.co.uk
Listen live at www.sfob.co.uk or TuneIn Radio at http://tunein.com/radio/Ship-Full-of-Bombs-p891772/
Whilst you are here...
Ship Full Of Bombs are currently looking for patrons to help pay with increasing running costs so they can continue broadcasting unformatted radio. If you can donate and help them out we'd be very grateful https://www.patreon.com/user?u=9297486
 Thank you