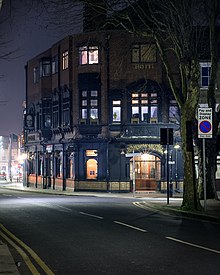 Just before the show went to air we discovered that our spiritual home and the place where Ship Full Of Bombs broadcast for over 6 years has had to close its doors. This show is dedicated to all the staff and punters of this wonderful place. It may have gone but the memories will never fade. 
Life On Mars - Dexter Wansel
Kinshasa FC - STR4TA
Super Strut - Deodato
Expansions (Ryuhei The Man Re-Edit) - Nautilus
The Groove - Rodney Franklin
Table Dancers (Smoove Remix) - Emma Noble
Born To Live With Heartache - Mary Love
Home Is Where The Hatred Is - Esther Phillips
Don't Act Like A Fool - Premonition
Never Learned To Dance - The Harvey Averne Dozen
Movin' On - Ray Camacho
Spirit Of Love - Eddie Palmieri
La Botella - Bataan
Half The Day's Gone And We Haven't Earned A Penny - Kenny Lynch
I Love My Lady - Johnny Mathis
Can I Get A Little Something For The Weekend - Ben Westbeech
She's A Dancer - Dino Soccio
Calling Out - Sophie Lloyd ft Dames Brown
Rock Steady (Soopastole Edit) - Aretha Franklin
Liberation Conversation - Marlena Shaw
Little Boys With Shiny Toys - Sharon Jones and the Dap Kings
As Long As I've Got Wu - Sam Tweaks
Sunny Juice - Smoove
Vivrant Thing - Q-Tip and Eddie Hendricks
Do My Thing - Potatohead People ft Illa J and Kapok
In The City - Jessie Gomez and SWB
Die Happy (Instrumental) - Al 'Man' Gomez Muntzie and the Embraceables
Lies - G.Q.