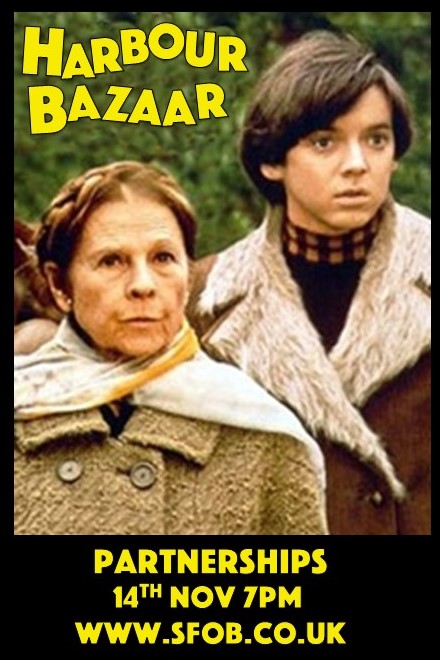 A cauldron of couples from the frankly odd to the simply sublime in our partnership themed Harbour Bazaar this month.
Featuring big love for Harold & Maude and the joyous Nuts In May, glowering fancy dress plus inexplicably clown based detectives, leaping nuns and a startling appearance from Freddie Garrity…!
And a truly stinking but frankly sensational Camembert Corner, a Glorious 60s Pop Moment, new release news from BUSKR and tracks from JAMC & Shane MacGowan, Maddy Prior, Cocorosie, Bonzos, SQÜRL, Ted Milton and many more.
We have a hoot and hope you enjoy!
LINKS
November is CRPS (Complex Regional Pain Syndrome) AWARENESS MONTH 
Please help raise awareness for CRPS. Visit Burning Nights for more information and to support.
www.burningnightscrps.org
 
BUSKR New Album Released DAY BREAKS released on 19th and available for pre order
https://www.hottwerk.co.uk/product-page/buskr-day-breaks
PLAYLIST
No More Hot Dogs - Hasil Adkins
Miles From Nowhere - Cat Stevens
I Want To Get Away - Keith & Candice-Marie 
Fly Up My Cock - Maddy Pryor & Tim Hart
Apple Blossom  - The White Stripes
Two Of Us   - The Beatles
God Help Us   - Jesus & Mary Chain with Shane MacGowan
Go First  -  BUSKR
Let's Go All The Way - Sly Fox
Security  - Thane Russell and Three
11 Moustachioed Daughters - Bonzo Dog Band
My Angel (Malaika) - Harry Belafonte & Miriam Makeba
Beautiful Boyz - Cocorosie & Anhoni
Funnel Of Love - SQÜRL & Madeline Follin
I'm A Man - Dr Feelgood
The Leaping Nuns Chorus - Peter Cook and Dudley Moore
Cherry Blossom - Ted Milton & Goz Of Kermeur