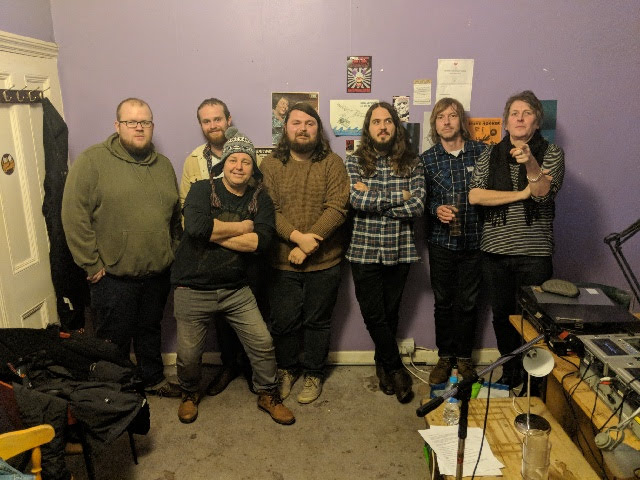 Harbour Bazaar with Steven Hastings - 04/03/18 7pm www.sfob.co.uk
Once more unto the The Habour Bazaar dear friends with a low slung show as we are joined in the studio this month by the heavy groove psych quartet Lo Chief debuting their latest tracks recorded at the basement studio of our home at The Railway Hotel plus sharing their influences and inspirational Guest Choices From Choice Guests.
Classic Album is Generation Terrorists the debut opus from Manic Street Preachers released twenty five years ago this month! And Owen's Stats and Facts educating us about the Rebecca Riots and featuring the cast as the rioters!
Plus all the usual features along the way including three tracks Buried In The Bazaar,Then & Now, a classic in Cover Uncovered, a Glorious Sixties Pop Moment from Dantalian's Chariot and heaps more!
Follow The Harbour Bazaar on Twitter @harbourbazaar1 and www.facebook.com/theharbourbazaar
Ship Full Of Bombs broadcasting live from The Railway Hotel www.railwayhotelsouthend.co.uk
Listen live at www.sfob.co.uk or TuneIn Radio at http://tunein.com/radio/Ship-Full-of-Bombs-p891772/
Follow Lo Chief on Soundcloud at https://soundcloud.com/lo_chief
PLAYLIS
Pimples and Braces - Ric Gary
You Love Us - Manic Street Preachers
The Four Horseman - Aphrodite's Child
Sol Vista - Lo Chief
Space Cadet - Kyuss
The Hammer Song - The Sensational Alex Harvey Band
Sacrilege - Yeah Yeah Yeahs
Yo! My Saint - Karen O and Michael Kiwanuka
Tennessee - Manic Street Preachers
El Paso - Lo Chief
The Madman Running Through The Field - Dantalian's Chariot
Slash And Burn - Manic Street Preachers
No Quarter - Led Zeppelin
Dreams Of Milk And Honey - Mountain
The Mighty Quinn - Manfred Mann
Born To Lose - The Heartbreakers
Ezy Rider - Jimi Hendrix
Equinox - Lo Chief
Motorcycle Emptiness - Manic Street Preachers
Next Harbour Bazaar Bazzar will be 1st April with a New York Dolls special plus finest debuts!
Whilst you are here
Ship Full Of Bombs are currently looking for patrons to help pay with increasing running costs so they can continue broadcasting unformatted radio. If you can donate and help them out we'd be very grateful https://www.patreon.com/user?u=9297486
Thank you