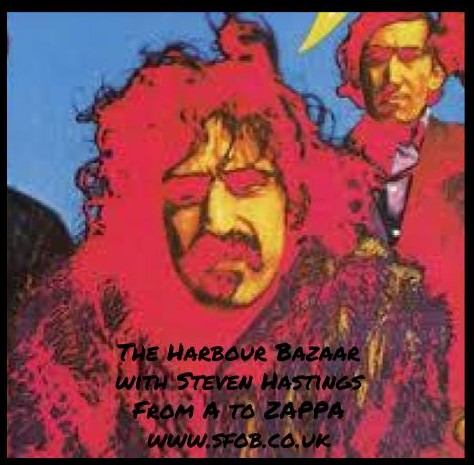 The Harbour Bazaar with Steven Hastings - FROM A to ZAPPA!
Ahoy-hoy! Artist special this month in the Bazaar when we give you our exploration of the force that was Frank Zappa! Now I'm no expert so telling the tale, choosing tracks and exploring the influences and inspirations we are delighted to be joined by afficionados Paul Scott and Alex Milne going head to head on all things that was the musical polymath that was Frank Zappa....and there is a quiz!
Along the way Guest Choices From Choice Guests, Owen's Stats & Facts, Cover Uncovered, A Glorious Sixties Pop Moment plus new tunes and plenty more! Going to be freaky!
Listen live at www.sfob.co.uk or TuneIn Radio at http://tunein.com/radio/Ship-Full-of-Bombs-p891772/
Follow The Harbour Bazaar on Twitter @harbourbazaar1 and www.facebook.com/theharbourbazaar
Ship Full Of Bombs broadcasting live from The Railway Hotel www.railwayhotelsouthend.co.uk
Playlist
Get Down & Get With It - Slade
I Want You To Be My Girl - Frankie Lymon & The Teenagers
Hungry Freaks, Daddy - Frank Zappa
Whole Lotta Rosie - AC/DC
Who Are The Brain Police? - Frank Zappa
Upon The My O My - Captain Beefheart & His Magic Band
Trouble Every Day - Frank Zappa
Miami - Baxter Drury
Call Any Vegetable - Frank Zappa
Lumpy Gravy (Part One) - Frank Zappa
Mom & Dad - Frank Zappa
I Heard It Through The Grapevine - The Slits
Later That Night - Frank Zappa
Kalamazoo - Primus
I Think I Love You - The Partridge Family
Groupie Bang Bang - Frank Zappa
The Amazing Mr Repeat - Sparks
Peaches En Regalia - Frank Zappa
Ogbeler - Tuvanian Singers & Musicians
Too Late - Frank Williams & Jonny 'Guitar' Watson