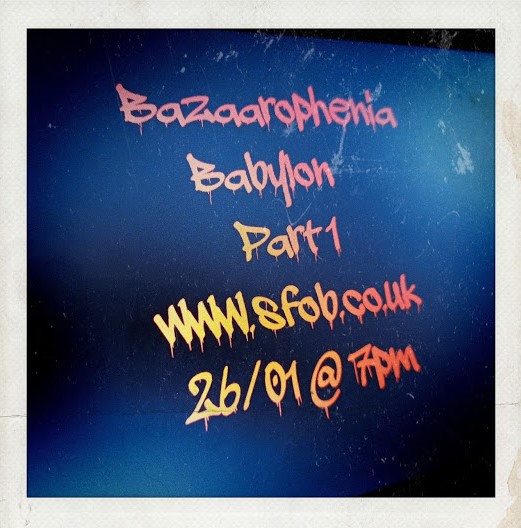 Harbourophenia? Podrobazaar? Bazaarophenia? You choose as we head for the bad lands with the first of a two-part mash up between The Harbour Bazaar colliding with fellow Ship Full Of Bombers Podrophenia to swap their favourite Babylonian stories, low tales and highlight tracks from artists whose flair for mayhem, chaos and debauchery became legendary!
In our Part 1 we go join the dots between country critters Hank William & George Jones to UK rocker Vince Taylor to David Bowie via Adam Ant & Zodiac Mindwarp & The Love Reaction, Gram Parsons, Rick James and a stomper from The Sweet!
Plus fabulous new music from Superdrone from their new mini-album The Creation and keeping the show on the rails with a YMO Clapton crossover in Zoe's Camembert Corner, A Glorious 60's Pop Moment from The Mynah Birds and plenty more! Oh la la!
Hope you enjoy! Look out for Part 2 of Bazaarophenia 12th March from 8pm
Superdrone information and music at: http://superdrone.bandcamp.com/album/the-creation
Follow The Harbour Bazaar on Twitter @harbourbazaar1 and www.facebook.com/theharbourbazaar
Ship Full Of Bombs broadcasting live from The Railway Hotel
www.railwayhotelsouthend.co.uk
Playlist
Shombolar - Sheriff & the Ravels
Long Gone Lonesome Blues - Hank Williams
The Angel of Death - Hank Williams
Lady Madonna - Elvis Presley
Brand New Cadillac - Vince Taylor & The Playboys
Ziggy Stardust - David Bowie
I Am Divine by The Astronets
See Emily Play - David Bowie
White Lightning - George Jones
The Race Is On - George Jones
Behind the Mask - Eric Clapton
Firestone - Super Drone
High Priest Of love - Zodiac Mindwarp & the Love Reaction
Vince Taylor - Adam & The Ants
Dirk Wears White Sox - Adam & The Ants (bootleg)
It's My Time - Mynah Birds
I Got You (In My Soul) - Mynah Birds
$1000 Wedding - Gram Parsons
Turn It Down - The Sweet
The Needle And The Damage Done - Neil Young