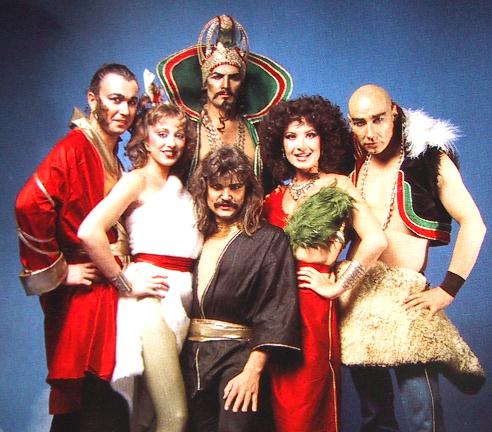 You lovely Eurovisionaries. WeirdGear and Pettaluck (aka Lee (L) and Emma(E)) take a turn for the Eurobest and Eurowurst.
Here's what we played:
(E) Rita Braga - Millions of Reflections (Portugal),
(L) Fat White Family - Feet (United Kingdom), 
(L) Tame Impala - Patience (Australia), 
(E) Rita Braga - Millions of Reflections (Portugal) - [so good we played it twice],
(L) Royksopp - Foresaken Cowboy (Norway),
(L) Sabrina - Boys (Italy),
(E) Toxic Chicken - That Fine Ass (USA?),
(E) Pash Parfeny - Lautar (Moldova)
(L) Aleksandr Sergeyevich Zatsepin - The Shaman's Dance (Russia)
(L) Flamengo - Tyden v Elektrickem Meste (Czechia)
(L) Koncz Zsuzsa - Visz A Vonat (Croatia)
(L) Michael Mayer & Miss Kittin - Voyage Interieur (Germany)
(L) sir Was - In the Midst (Sweden)
(L) Zedenka Kovacicek - Draga Mi Je Lijen K'o Slika (Bosnia & Herzegovina)
(E) Ashtoreth & Grey Malkin - The God in the Fields (Belgium)
(L) Richard Hell & The Voidoids - Destiny Street (France)
(L) Zespol - Agent 008 (Poland)
(E) 1000 Names - Roket Loop 94 (Bulgaria)
(E) Waterflower - Grow (Latvia)
(L) Misa Blam - Gorila (Serbia)
(L) Sarolta Zalatnay  - Fekete Beat (Hungary)
(L) K-X-P - Melody (Finland)
(E) Salome - Vivo Cantando (Spain)
(L) Henry McCulloch - BP Fallon & David Holmes 
Thanks for listening and we're back on air 9th June 7-9pm.
Don't forget to patronise the station here www.patreon.com/sfob
Long-term friend of the show is riding from Bourne End to Paris for Prostate Cancer UK 14-19 May.
Get involved with cash here https://uk.virginmoneygiving.com/ELG-Cycle-2019