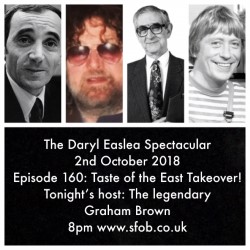 Episode 160: TASTE OF THE EAST TAKEOVER!
What an absolute treat for you tonight, Graham Brown steps up from his Taste Of The East armchair and presents the Spectacular. All regulars - bar Mr Easlea - intact, and a sparkling selection of tunes old and new. And a generous tribute to those who've left us since the last show.
If you like what you hear and would like to support us, have a look at https://www.patreon.com/sfob
thank you!